Icomfort Wi-Fi Lennox Thermostat
**Now Available**
Once again, Lennox delivers. The new icomfort Wi-Fi™ thermostat represents new thinking in connectivity, convenience and control for your customers. In addition to being a truly advanced digital thermostat, the icomfort Wi-Fi opens up a whole new set of features once it's connected to your customers' home wireless network. It's brilliant, it's convenient, and it's just what you'd expect from the innovation of Lennox.
Introducing a thermostat that helps put their minds at ease.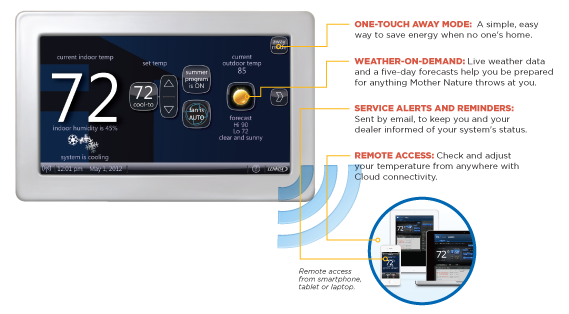 Your customers have enough to worry about. Comfort and saving energy shouldn't be one of them. The icomfort Wi-Fi thermostat keeps them comfortable while helping them save energy.
Put them in control of their thermostat. Anytime, anywhere.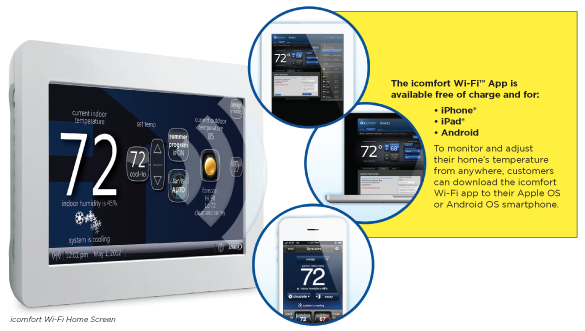 Thanks to its Cloud connectivity, icomfort Wi-Fi lets customers monitor and adjust the temperature in their homes from anywhere in the world with a smartphone, tablet or other web-enabled device. This kind of brilliant innovation lets you stand out in the marketplace, by offering something your competitor's can't match.
Life just got simpler!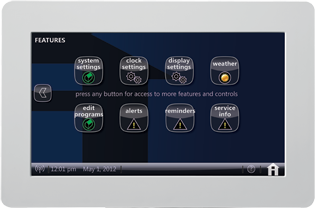 Thermostats shouldn't require a large manual to figure it out. The icomfort Wi-Fi thermostat acts like the products they use every day. They just touch where they want to go and they're off.
Weather-On-Demand — Knowing is half the battle.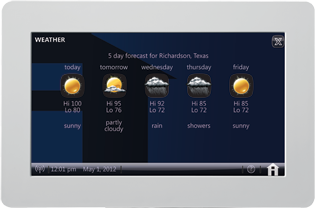 Not sure if you need that umbrella? The icomfort Wi-Fi thermostat provides the forecast right on the home screen. Touch the weather icon to see the 5-day forecast.
One-Touch Away Mode. Savings made easy.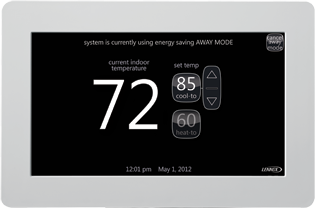 The icomfort Wi-Fi thermostat makes saving energy easy and efficient. One touch on the thermostat, smartphone or tablet puts the thermostat in an energy-saving mode that will help lower energy bills.
icomforT Wi-Fi automatically updates.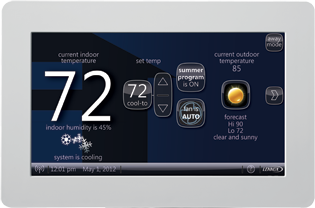 Outdated technology isn't a problem with this thermostat. The icomfort Wi-Fi thermostat will automatically update new features as they become available.
Make the thermostat disappear.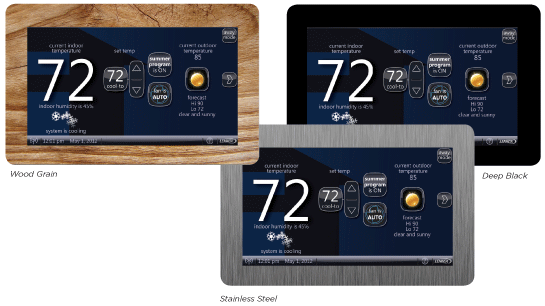 Homeowners are always looking for ways to make their home unique. The icomfort Wi-Fi features a customizable skin option that can match any color, pattern or design. They can visit the icomfort Wi-Fi website and follow the link to our third-party partner company which will handle the entire ordering process. The best part is you don't need to carry any inventory—our third-party company will handle the entire sales process.
A thermostat that will tell you if there is a problem.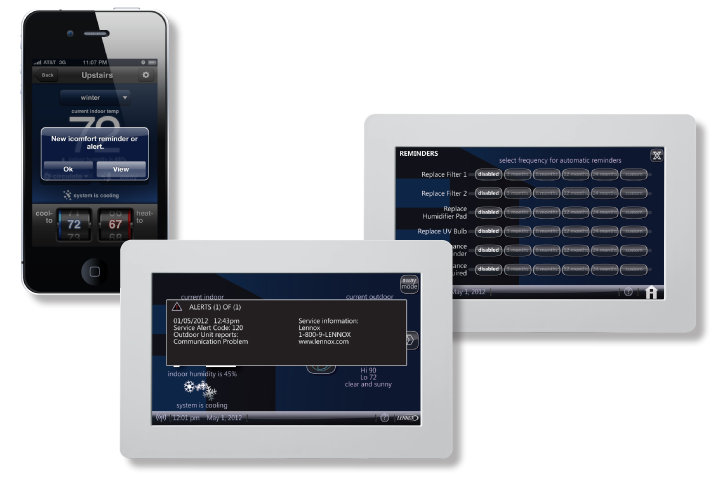 Getting alerts and reminders for maintenance on your thermostat is great, but what if you aren't home? The icomfort Wi-Fi thermostat will send your homeowners an email or an alert to the mobile app if there is a problem or maintenance is required. With their permission, it can even send messages directly to you—their Lennox service and maintenance provider.
Tags:
i comfort
,
wifi
,
wireless thermostat