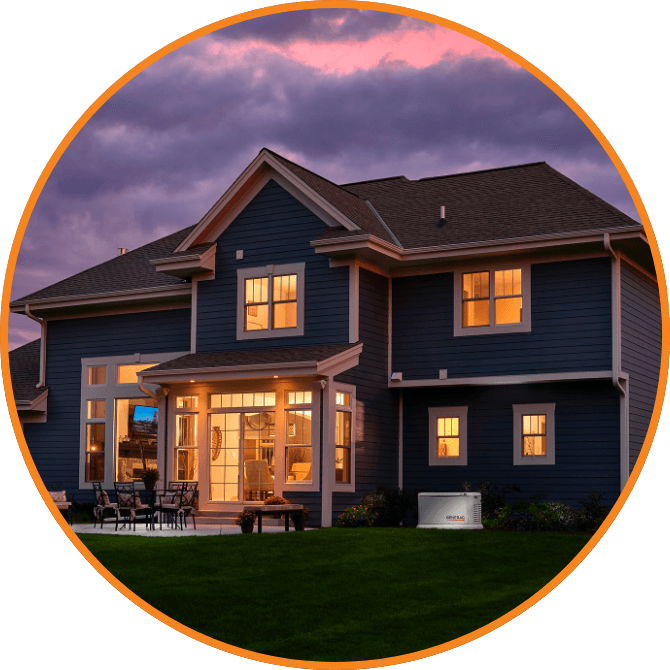 GENERAC HOME GENERATORS ENSURE RELIABLE POWER WHEN YOU NEED IT MOST
When you're faced with losing power because of a severe weather event or other emergency, it helps to have a backup plan. A home generator can provide your home with enough electricity to protect your comfort. But you need a brand and generator installers in Omaha, NE, you can trust.
A-1 United Heating, Air & Electrical offers Generac generators. Known for automatic protection and a diverse suite of helpful features, a residential generator from Generac is a great safety net for your home. You'll also benefit from A-1 United's outstanding generator installation services, which will ensure your home generator is ready for anything regardless of the model you choose.
GENERAC HOME STANDBY GENERATORS
FEATURES
A Generac home standby generator is installed outside your home as a permanent fixture, similar to your air conditioner. These home generators are designed to respond immediately after unexpected power loss. Even if you're away from home, you can count on your generator to start automatically when disaster strikes.
Both natural gas and liquid propane (LQ) models available
Natural gas generators are a some of the most affordable models available today. If you don't have natural gas service at your home or want a generator that runs on propane, Generac offers that too. A-1 United will help you choose the best option for your home.
Direct line to your electrical panel
Generac backup generators are connected directly to your home's electrical panel, giving them an advantage over portable generators.
Free Mobile Link™ Remote Monitoring
It's a horrible feeling to know you're away from home as severe weather is heading that way. Use Mobile Link to check your generator's status from a smartphone, tablet or PC. You can monitor the current operation and receive helpful maintenance alerts.
24/7 CUSTOMER SUPPORT
Like A-1 United, Generac values ensuring professional help is never out of reach. Power outages don't stick to regular business hours so neither should we.
Trust Us for Generator Installation in Omaha, NE
Generator installation is best left to a professional electrician. For the best results, choose A-1 United Heating, Air & Electrical. Our expert staff will help you find the right generator for your home's square footage and power needs. Call us at 402-593-7500 to request your free estimate today!