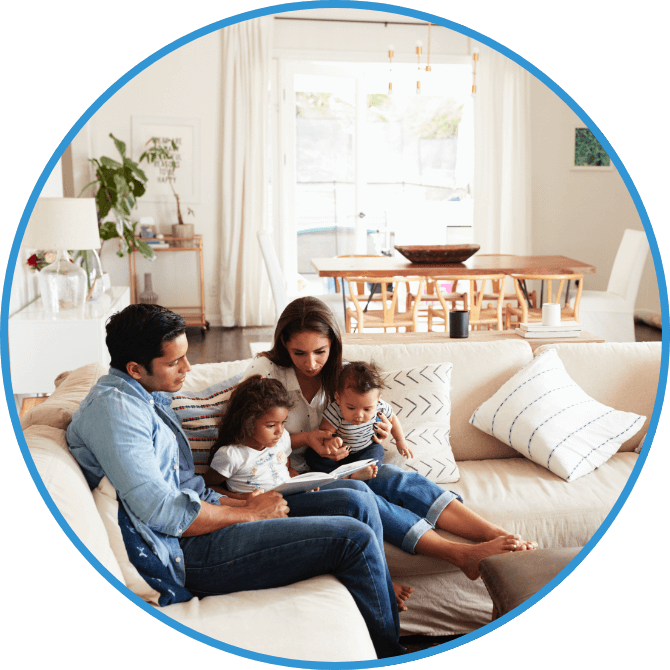 HONEYWELL THERMOSTATS
Take control of your home comfort and save on energy costs with a range of Honeywell Home thermostats. From smart WiFi thermostats with room sensors and humidification control, to programmable and non-programmable thermostats, Honeywell Home products meet a variety of needs.
HONEYWELL THERMOSTATS AT A GLANCE
T4 PRO PROGRAMMABLE THERMOSTAT
Simple Control with Smart Learning
Easy to install and intuitive to use, the T4 Pro Programmable Thermostat learns how long it takes your system to reach the desired temperature and activates the system earlier to help you feel comfortable sooner.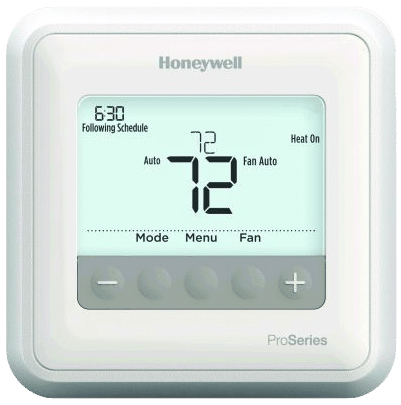 FEATURES
Simplified Control
The T4 Pro Programmable Thermostat is easy to install with on-screen menus to display installation steps and a universal mounting system. It's even easier to use with simple push button controls, allowing you to adjust the temperature or set a heating and cooling schedule.
Adaptive Intelligent Recovery
Over time, the T4 Pro Programmable Thermostat learns how long it takes your system to reach the temperature you want. It turns on the heating or cooling system earlier to make sure you're comfortable at the time you expect.
Revolves Around You
It takes work to manage your daily schedule, but with the T4 Pro Programmable Thermostat, your home temperature is one thing you can set and forget. Program a seven-day schedule or set different schedules on the weekend so you can always be comfortable whether you're awake or asleep, home or away.
T6 PRO SMART THERMOSTAT
Control Your Comfort
The T6 Pro Smart Thermostat can give you home comfort control from anywhere. Connect to the app to view and change temperature settings, program a 7-day schedule or just let the T6 respond automatically — it's designed to work with the heating stages of your existing system.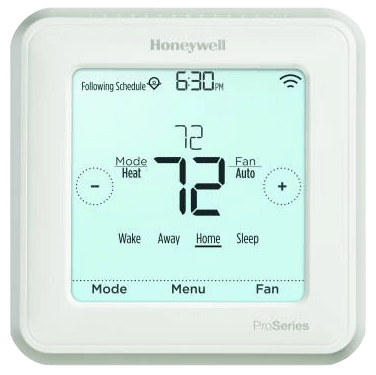 FEATURES
Responds to You
Your life doesn't always follow a schedule, but the T6 Pro Smart Thermostat can. Program your weekly schedule – or enable the geofencing feature to respond to your active lifestyle. When you come and go, your temperature settings will automatically adjust based on your location. No need to predict your schedule up front.
Works with Your Favorites
When connected to your existing WiFi, your T6 Pro Smart Thermostat can integrate with smart home Apple HomeKit and Amazon Echo, letting you adjust your temperatures as easy as you change songs on your playlist. This WiFi thermostat also works with your heating system's stages, up to 2 Heat/1 Cool with heat pump.
Energy Savings
The ENERGY STAR® certified T6 Pro Smart Thermostat can use its responsive settings to help budget your energy use at home by adapting to your schedule rather than operating at peak times. Designed with the ability to let you adjust temperatures via the app, your smart thermostat can help save energy when it matters most.
T10 PRO SMART THERMOSTAT WITH REDLINK SENSOR
A temperature that's 'just right.' Every night.
Sense the temperatures and humidity in the places that matter most with the T10 Pro Smart Thermostat. Focus on the rooms you choose by adding Smart Room Sensors and setting a schedule, or let the sensors respond to your lifestyle.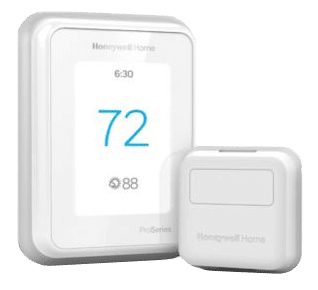 FEATURES
Prioritize Multiple Rooms at Once
With the T10 Pro Smart Thermostat and RedLINK™ Room Sensors, you can prioritize comfort in different rooms at different times – like living areas during the day and in bedrooms at night. Or choose to adjust the temperature based on the motion in the active rooms.
Home Air in Perfect Balance
Control humidification, dehumidification, or ventilation from your thermostat or your Honeywell Home app. Air quality isn't just important for you, it helps your home's heating and cooling system run smoothly too. Ask your pro which air products are right for your home.
Comfort When Home, Savings When Away
With the Honeywell Home app, the T10 Pro Smart Thermostat knows when you're coming and going, no matter your schedule. Save energy when you're gone and come home to comfort.
Smart Response® & Alerts
The T10 Pro Smart Thermostat learns your home's heating and cooling cycles. Be alerted when it's time to change your filter or when temperatures swing drastically — and frost protection can cycle if it gets too cold.
People Detection
RedLINK™ Room Sensors can automatically focus on occupied rooms. Advanced motion detection knows the difference between someone passing through a room or spending time there.
Schedule Your Comfort, Your Way
Make your own schedule in the app or on the thermostat, or allow each sensor's motion-detection technology to shift priority automatically as you move around the house. The geofencing feature in the Honeywell Home app allows the T10 Pro Smart Thermostat to know when you're coming and going to automatically optimize comfort and savings.
Monthly Home Energy Reports
Track your heating and cooling trends and compare your energy usage to similar homes in your area. Get tips to help you reduce your energy use and make your home more efficient and help save on your bills.
Get a Rebate from your Utility
Connect your Honeywell Home thermostat to your utility to earn rewards. Earn money for using less energy when others are using more.