Healthy Climate Carbon Clean 16 Media Air Cleaner
Destroys Odors – photocatalytic oxidation destroys odors and so does the Carbon Clean 16 filter.
Carbon inside the filter that has been treated with oxygen reacts with odors, neutralizing them before they can recirculate in your home
Clean air in every room – Removes more than 95% of allergy-aggravating particles from your home's air.
(Source: Leading consumer magazine, January 2012. Based on the published CADR, which is a standardized measurement system to determine the cubic feet of clean air produced per minute.
Particles captured range in size down to 0.3 micron***)
Healthy Climate 13 & 11 Media Air Cleaner
Healthy Climate 13 Media Air Cleaner
The healthy-household media filter for families wanting protection from viruses and bacteria by removing more than 99% of particles (dust, pollen, and lint.)
Helps prolong life of heating and cooling system by keeping it free from dirt and dust buildup.
Healthy Climate 11 Media Air Cleaner
Removes ore than 85% of dust, pollen and other particles (Ranging in size down to 3 microns.***)
Also is effective against common allergens that can aggravate asthma a respiratory illnesses.
Attacks germs, viruses, bacteria, and mold.
Trouble remembering to change your filter? SIGN UP for your complimentary Filter Replacement Reminder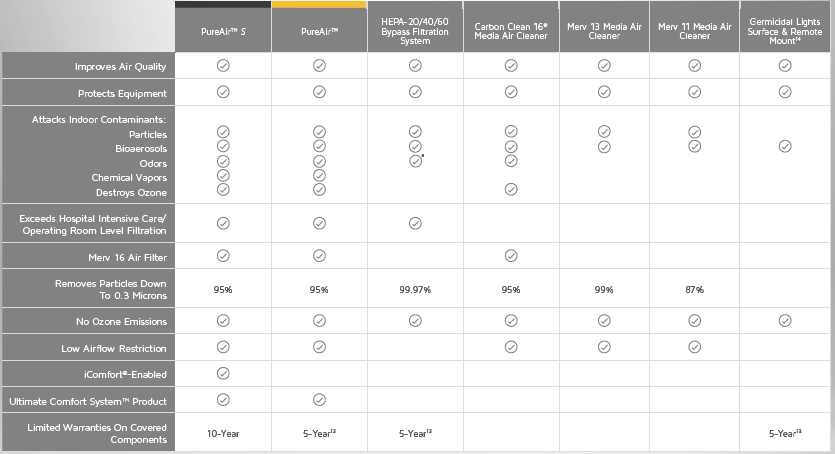 *Only available with the carbon filters.
Click HERE for more information.